Need Collections Help?
Get Your Money Back Now with a Kansas City Collection Attorney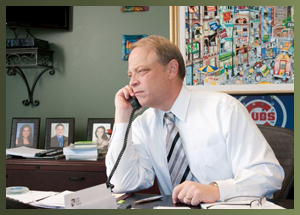 Our Kansas City firm has an active collections practice that operates throughout the Midwest region. We assist our clients with many types of collections services. Whether starting collections procedures by contacting a debtor and arranging payment, by filing suit or by registering a judgment from another state or foreign country, an experienced collection attorney at The Sader Law Firm can help.
Unlike collection agencies, attorneys can take debtors to court and bring legal action if lawsuits, or the threat of lawsuits, will resolve their accounts.
Why Choose an Attorney Over a Collection Agency?
When deciding to move forward with collections, many times companies chose agencies over attorneys with hopes of avoiding legal actions. However, agencies often use the same collection methods that have already proven ineffective, including writing letters and trying to contact debtors over the phone. Some individuals and companies will continue evading payments, even after all other means are exhausted.
In these situations, retaining the assistance of a lawyer with experience handling debt collection actions can make headway with those who have high balance delinquent accounts.
Our legal team is well versed in the Fair Debt Collection Practices Act and in all collection procedures, including:
Garnishments
Attachments
Lien registration
Foreclosures
Repossessions
Involuntary bankruptcy
How Much Do Collection Attorneys Cost?
Depending on the case, we have flexible fee schedules, which may include charging on an hourly, contingency fee or blended basis. Each qualified Kansas City collection attorney at our firm strives to keep you informed as your case proceeds. We also try to be as responsive as possible to all inquiries and requests for information.
For further information, or to see how we can assist you in collections efforts, please email attorney Neil S. Sader or call the law firm  at (816) 561 1818.